Fob Key Replacement in Austin, Texas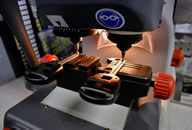 If you call your automotive dealer and ask them how much they charge to program a remote, you will be discouraged by the high cost. But if you call Car Locksmith Austin and we tell you we have a cheap key programming service you will be encouraged. We provide solutions to our customers who need fob programming at any time. Our skilled technicians can program your remote quickly. We can also make it possible to get back on the road if you need help quickly. Call us today for this and other services.
Cheap Key Fobs Offered
When you need car remote key fob replacement, we are your best source for this service. We have several high quality remotes that we use for this service and that we can quickly program for your use.
If your budget is tight and you are not in a position to pay dealership prices, you will like our cheap key fobs because of their high quality and low price.
Replacing Fob Key
We have automotive key fobs that you will like and that have all the latest features. If you need one of these for your vehicle, we will provide it to you. Whether you have a late model car or a classic, we can help you.
We make sure that when you need help you get it at any time. Just call us and we will help you.
Car Locksmith Services :